Do you know why a baby's skin is so supple and soft? It's because there are large amounts of Hyaluronic Acid in it.   Hyaluronic Acid may sound like an alarming or perturbing chemical but it is a substance that is naturally present in the human body and usually reduces with age.
Hyaluronic Acid is what gives skin its volume and fullness but as it reduces with age wrinkles and loss of elasticity can occur because there is less volume in the skin. Skin hydration is the core basis of anti-aging and healthy skincare for the simple reason that adequate water content is essential for the for all of the human body's structures to function properly including skin.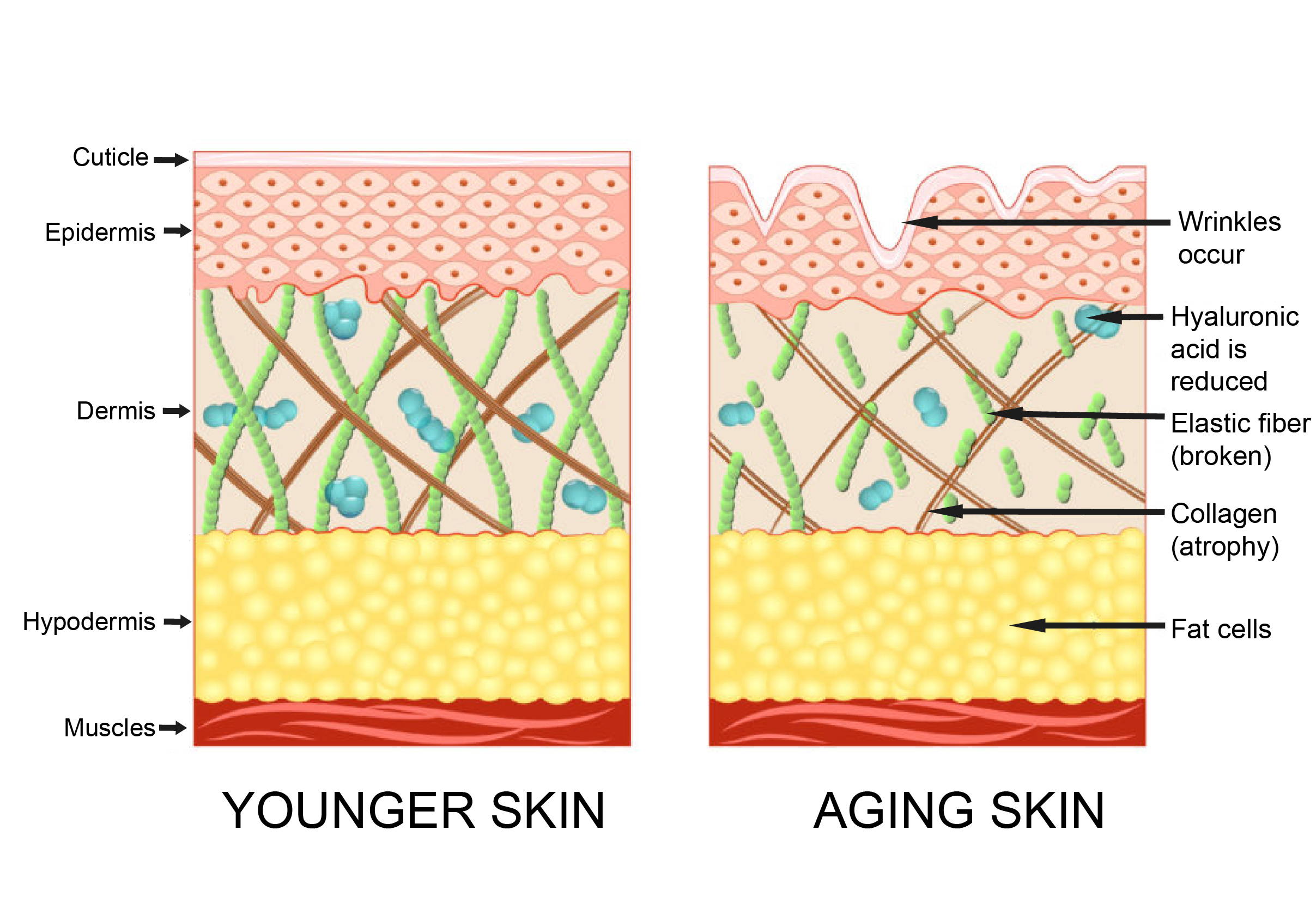 As we age, we naturally begin to loose hyaluronic acid, the elastin fibres break down, loosing strength and flexibility so skin is slower to 'bounce back'. Collagen experiences atrophy where the collagen gradually and naturally declines in the dermis. These are some of the major processes that occur in the dermis as we age and all assist in weakening the plump full appearance of the epidermis layer. An appearance we usually see in younger skin and generally like to retain for as long as possible!
Hyaluronic acid influences internal processes taking place in the skin in many ways but 3 of the top ways hyaluronic acid affects skin are;
Serving as a water holding substance with a barrier function. Hyaluronic Acid can hold up to 1000 times its weight in water it also attracts water in the general atmosphere to the skin as a humectant. The optimal hydration helps to maintain the epidermis and maintains suitable conditions for the cells of the epidermis to function well. The formation of a film on the skin's surface is a product of the physico-chemical properties of hyaluronan. This film hydrates the surface of the skin and prevents water loss by 'holding' water to the skin.


Hyaluronic acid also serves as an aid to collagen and elastin production. It fights ageing by stimulating new collagen and elastin production as it hydrates. This helps to reduce any existing wrinkles and prevent the formation of new ones. Hyaluronic acid is well known as "The Fountain of Youth" for its skin rejuvenation properties. There are two sources of Hyaluronic Acid, the only Hyaluronic Acid used in the Body Pure Ltd product range is made by producing enzymes from a bacteria-based bio fermentation process of glucose derived from corn and NOT sourced from poultry (roosters' combs).


HA serves as an anti-oxidant and free radical scavenger, protecting cell structure and defending against external threats helping to protect the skin from the ageing effects of excessive sun exposure.



The Hyaluronic Acid found in Body Pure Ltd products are a natural and ECOCERT approved active ingredient providing very effective hydration for perfectly moisturized skin, improved skin smoothness and elasticity.